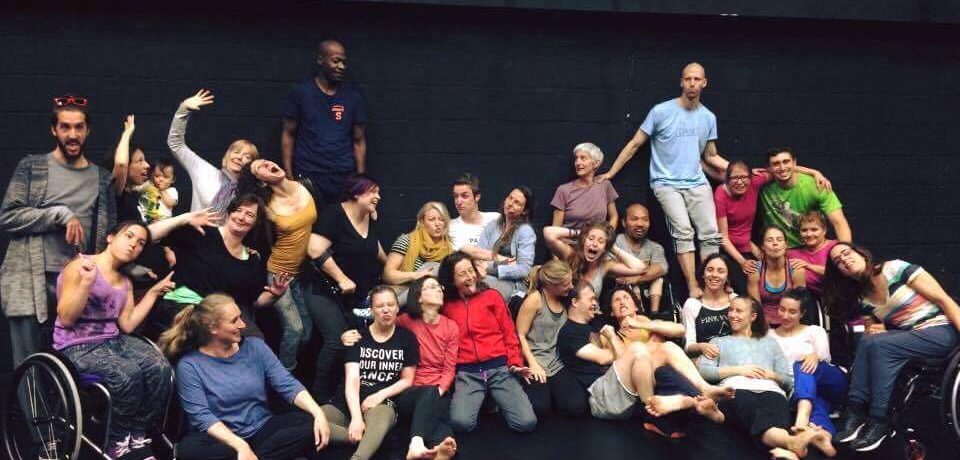 February 16, 2018
Athens Residency: Hannah's notes
Hannah shares her experience at the Athens Residency in March…
"On the 12th March, Siobhan Hayes, Kat Ball, Cherie Brennan, Freya Spencer, Laura Jones and I traveled together to Athens to teach a workshop with three other companies. We were working with Skanes Dansteater, Holland Dance Company and a Greek Company from Onassis Cultural Centre.
In Monday's session, the Greeks workshop was based on the idea of being in contact with the floor and with a partner. In Tuesday's session, we revisited the contact again in the morning, and on Monday afternoon we learnt how to compose pictures and images from a projector. By doing this, we created our own mind-maps, poems; as this progressed we had a choice to use the red socks, chairs and finding a relationship with the other dancers.
I really liked the task where we composed the shapes from the painting and created our own compositions.
Skanes taught their session in the afternoon on the same day. I learnt about what kind of tools they use in their workshops and it was this that reminded me how similar we work on our IRIS program. I really liked how their exercises flowed into the other from the circle warm-up to the traveling name game. I also liked and enjoyed the task where we lead and follow our partner's movement by closing our eyes, leading and following our partner and responding to our partners movements.
On Wednesday 15th, the Greeks taught again in the morning. One of the dancers, Manoli wanted to teach an exercise where we followed his leading hand. Maddie who is his support had asked us to find a partner. Keeping this idea of leading and following, we had to choose a different body part for our partners to lead and to follow. After the leading and following task, we recapped our mindmaps and red socks task. This time, we added on a final segment to our compositions by creating a jam at the end of the session. In the afternoon, Holland Dance taught a session based on language. As a group, we learnt some Dutch words so we could use them in an exercise that we learnt from them. After learning the exercise, we got together with our group and added a few movements onto the exercise. In our groups, we had to use the same words that we've learnt and add on our own words. Afterwards, we showed each group our routines at the end.
On Thursday 16th, Siobhan and Laura taught Stopgaps professional practice where we explore and adapt movement. In this class, we used visualisation to help us explore what the focus is in the exercise. In the afternoon, I taught a warm-up based on Gyro where we sat on chairs. When I was teaching Gyro, I told them what the definition of the word means and how everything flows into one exercise. At the end of the day, I taught a stretch cool down to finish the day.
On Friday 17th, we taught a session based on our workshop practice. This session was based on how we teach our youth companies to see how they grow and improve on their dance technique. In the afternoon, we finished the week by a group jam where we had three different rules based on the week we had. This means that we mixed everything together to make a group composition to three different tracks of music. I really enjoyed how the week went from one to the other by listening to their views and suggestions about our work at the end of the day. I hope to see everyone again the UK very soon."
Posted Monday, 15 May, 2017 on the blog of stopgap dance company.